We painted our office loveseat and we love it!


When planning the layout for our new office, we knew that a sitting area for meetings was a must. And being on a tight budget, we had to get creative. We were drawn to this little $40.00 couch at Habit for Humanity. The loveseat was almost perfect. We loved the shape and the size was perfect for its new home. We even liked the floral texture. The only negative in our eyes, the color – a blend of yellow and dirty green. The color actually looks better in this picture than it did to us in the store!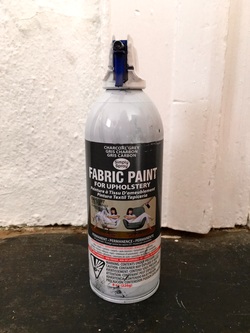 So after some brainstorming, we decided to paint it.
We have to admit, we were pretty nervous at first. But we thought we couldn't make the color look any worse than it already was.
And if we did happen to mess it up, then we would only be out $40.00.
Then we came across Simply Spray Fabric Paint for Upholstery at Hobby Lobby for about $9.00 per bottle. But after our 40% coupons (
www.hobbylobby.com
), we got the price down to around $6.00 per bottle.
The job took 10 bottles of charcoal paint to achieve the color that we were looking for.
A helpful tip is make sure t
hat the material you are painting is lighter than the color of the paint you are using.
The loveseat's upholstery seemed to soak up the paint pretty quickly.
We let each coat dry before spraying on another.
In the end, we were happy with our results.
The color looked great and the spray did not make the loveseat stiff or uncomfortable.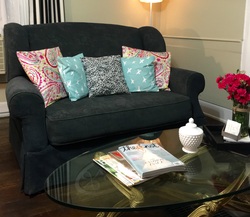 To finish the job, we found some colorful, pretty fabric to use for throw pillows. These pillows really brightened up our "new" loveseat. We are thrilled with the way this sweet little DIY'er turned out.

If you have painted a furniture piece of your own, we would love to see it!